Cus­tomers Are Always Right, Right? Or Are They?
There is a rea­son why the mantra, "cus­tomers are always right" or, "cus­tomer is king" is pounded into the heads of sales­peo­ple all around the world.  It's because cus­tomers are the lifeblood of every busi­ness.  So, whether cus­tomers have earned the right to be treated like kings, or are cer­ti­fi­ably wrong, is incon­se­quen­tial.  The didac­tic mantra stays.
I must admit though, that I had a prob­lem under­stand­ing this when I tried my hand at being a sales engi­neer at Sennheiser.  When faced with cus­tomers whose greed con­tin­u­ally sought an account­ing of var­ied pro­por­tions — often beyond the realms of what was rea­son­able — I sug­gested they buy from another com­pany.  I sim­ply couldn't afford the lux­ury of pil­ing on more value and dis­counts than what my regional man­ager had instructed me with.
If I had stuck to the mantra, I prob­a­bly would have been left with enough change at the end of the month to treat myself to a cheese­burger at Macs.  I wasn't going to let that hap­pen.  I wasn't going to set­tle for any­thing less than a dou­ble turkey club sandwich.
Need­less to say, my regional man­ager wasn't too thrilled that I had sug­gested his cus­tomers shop else­where.  I urged him to look at it from a philo­soph­i­cal pragmatist's point of view.  Instead, he accused me of being a scourge of estab­lish­ment at a time when I most needed suc­cor­ing.  I thanked him for the com­pli­ment though, and thought it best to fall on my sword.  It was the least I could do for the man unto whom I had bequeathed so much sorrow.
Look­ing back now, I can see where he was com­ing from.  And it got me think­ing — which doesn't hap­pen very often – that cus­tomers actu­ally pos­sess a despotic hold over busi­nesses.  Unless you sell a prod­uct that can­not be found any­where else in the world, you might as well hand over your prof­its to your com­peti­tors on a sil­ver plat­ter signed, "With Compliments."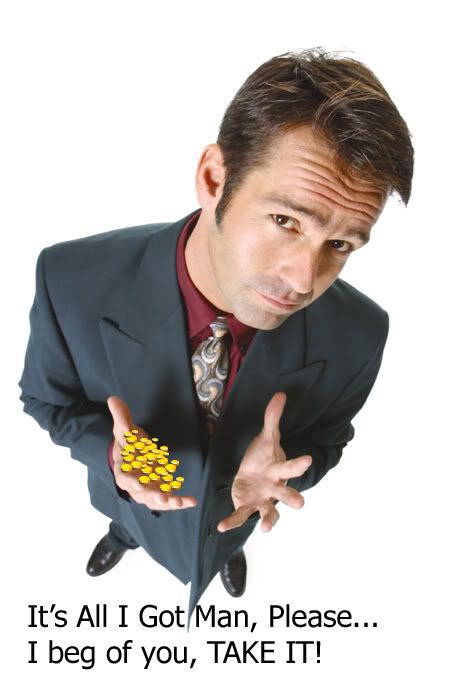 Because, if you can't sat­isfy all of your cus­tomers' insa­tiable desires, you can be assured that they'll be on their next car ride to your com­peti­tors.  Truth be told, your cus­tomers have never had your busi­ness inter­ests at heart.  They never have and they never will, which makes the notion of the cus­tomer always being right all the more con­found­ing.  Hurts, doesn't it?
Cus­tomers Are King, Right? Or Are They?
To sup­port my sober garb of eleemosy­nary verac­ity, a local news­pa­per here in sunny Sin­ga­pore has just revealed that six months into its open­ing, and retail­ers at the brand-new Changi Air­port Ter­mi­nal 3 have already taken a hit in sales.  As much as a 70% drop in sales.
One retailer was even quoted as say­ing that his busi­ness had to improve 200% just to break even.  That's a stag­ger­ing per­cent­age.  Even more depress­ing was the admis­sion — the hand­ful of cus­tomers retail­ers were encoun­ter­ing were com­prised mostly of air­port staff.
Ter­mi­nal 3 was setup to be an air­port cum shop­ping des­ti­na­tion.  With 20,000 square metres of com­mer­cial space, there should be no prizes for guess­ing the brains behind this con­cept were absolutely seri­ous about this venture.
I too would have thought it to be a novel idea, except for one minor detail — Sin­ga­pore­ans are already spoilt for shop­ping choice.  Which means, unless Ter­mi­nal 3 carves out a rea­son valid enough to pro­pi­ti­ate cus­tomers, retail­ers can only look for­ward to more cor­po­real mac­er­a­tion of sales.
I Am Going To Tell You What That Annoy­ing Trait Is, Right? Or Am I?
I believe I can attribute this power cus­tomers have over busi­nesses to one fac­tor.  Though admit­tedly, not the only con­tribut­ing fac­tor, it is an out­ward exert­ing force that sets the momen­tum going in other causes.  It's called – seller selec­tion .
Seller selec­tion is a lurid, odi­ous trait that all cus­tomers come pre-saddled with. It's noth­ing to feel envi­ous about.  You and I pos­sess it too.  After­all, we are cus­tomers our­selves, in one form or another.  Seller selec­tion is merely a customer's defen­sive mech­a­nism to unful­filled wants, albeit a very pow­er­ful one.
Mean­ing, if a cus­tomer can't buy a pair of shoes from you at a value that he finds rea­son­able, he's off to another retailer whom he believes will give it to him.  He wants the most bang for his buck.  The most value he can stretch out of every dol­lar.  And since you're not the only shoe seller in town, his choice of find­ing another retailer is an easy one.  That's seller selec­tion at work.  It's every customer's ace in the hole.
So, how can you flip the switch and use this trait to your advan­tage?  The solu­tion is star­ing you right in the face.  You prac­tice buyer selec­tion — where you decide whom you wish to sell to.  Laugh if you must, but do make sure you get it out of your sys­tem.  For it's not a case of doing unto oth­ers, what oth­ers are doing unto you, but rather, a strate­gic deci­sion that could ren­der your com­peti­tors helpless.
Here's the con­cept behind it.  You select buy­ers, or sup­pli­ers who don't have the power to sway your busi­ness adversely.  Less power equates to less price sen­si­tiv­ity, which equates to your buy­ers pay­ing what you stip­u­late.  Not the other way round.
How exactly should you achieve this?  By under­stand­ing your mar­ket and iden­ti­fy­ing who the power buy­ers are.  Do the same with your sup­pli­ers.  There are cer­tain char­ac­ter­is­tics tagged to them, which makes them eas­ily identifiable.
Be Aware Of These Power Buyer Characteristics
Since this post is pri­mar­ily con­cerned about your buy­ers, let's go ahead and pick out a few char­ac­ter­is­tics cen­tral to this group:
They are the ones who buy in bulk — Dif­fer­en­ti­ate the buy­ers whose pur­chases chew off a large chunk of their costs, from those that don't.  Buy­ers whose costs are only frac­tion­ally affected by large pur­chases are your ideal buy­ers.  They may be iden­ti­fied as buy­ers with power, but they aren't as price sen­si­tive as the other group.
Bar­gain hag­glers - These buy­ers come in all forms, shapes and sizes.  They maybe your every­day cus­tomer, to large com­pa­nies that pur­chase from you.  They're con­sid­ered pow­er­ful because they retain the abil­ity to force you into slash­ing prices at will, ruth­lessly dimin­ish­ing your returns whilst your fixed costs remain stag­nant.  Not the ideal sce­nario for the long-term prof­itabil­ity of your business.
How badly do they need your prod­uct? – If you're sell­ing an undif­fer­en­ti­ated prod­uct, then you'll need to pay atten­tion to this.  Buyer loy­alty is made much more dif­fi­cult because they're able to make price com­par­isons instan­ta­neously with their iPhones ( I do under­stand that not every­body owns an iPhone and to these folks I say, "Why the hell not?" ) and go where the price is low­est at the spur of a moment.  Although, this point may be incon­se­quen­tial if your pro­duc­tion and oper­at­ing costs are low because, you'll still be able to churn a profit even after slash­ing prices.
Are your cus­tomers look­ing for short-term, or long-term gains? – This ties in with the bar­gain hag­glers.  You can cor­rectly assume, these buy­ers aren't con­cerned about qual­ity.  They're look­ing for instant grat­i­fi­ca­tion.  You on the other hand, should be sin­gling out buy­ers who are keen on long-term gains.  These are your cus­tomers that are will­ing to pay good money for your prod­uct, because it's qual­ity that mat­ters to them.  Or, if the nature of the prod­uct you're sell­ing only pro­duces gains after a cer­tain period, then seek out cus­tomers who under­stand this.
In his book, On Com­pe­ti­tion , Michael Porter says,
"If the com­pany lacks a low cost posi­tion or a unique prod­uct, sell­ing to every­one is self-defeating because the more sales it achieves, the more vul­ner­a­ble it becomes. The com­pany may have to muster the courage to turn away busi­ness and sell only to less potent customers."
Unless the economies of scale don't apply to you, every strat­egy is worth your con­sid­er­a­tion.  This includes buyer selec­tion, even if at first thought, it sounds absolutely ludi­crous.  Don't hes­i­tate to fire cus­tomers who pos­sess a neg­a­tive, over­bear­ing influ­ence over your busi­ness.  For what you're in fact doing, is burn­ing the boats – wrestling con­trol from the grip of the power buy­ers' hands, back into yours.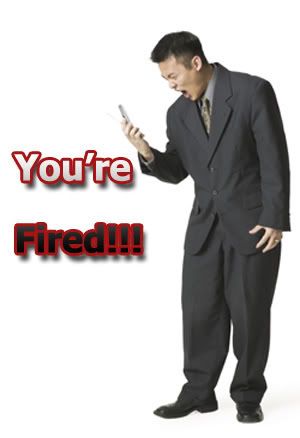 John H. Pat­ter­son, an early mas­ter of moti­va­tion wasn't afraid to fire his best exec­u­tives when power got to their heads.  You need to be a Maoist in a power suit, where per­ma­nent rev­o­lu­tion becomes your ulti­mate win­ning strat­egy, although it may not look the part at first glance.