A stark rev­e­la­tion by Mar­shall Gold­smith on the uncer­tainty of the new era and why we all need to think like entre­pre­neurs.  Read We're All Entre­pre­neurs.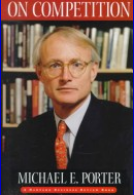 And while we're on the sub­ject of entre­pre­neurs, here's what Michael Porter has to say about com­pet­i­tive forces.  From his book, On Com­pe­ti­tion:
The struc­ture of an indus­try is embod­ied in five com­pet­i­tive forces that col­lec­tively deter­mine indus­try prof­itabil­ity: the power of buy­ers, the power of sup­pli­ers, the threat of new entrants, the threat of sub­sti­tute prod­ucts, and the rivalry among exist­ing competitors.

The col­lec­tive strength of the five forces varies from indus­try to indstry, as does aver­age prof­itabil­ity.  The strength of each of the five forces can also change, either improv­ing or erod­ing the attrac­tive­ness of an industry.
Makes sense doesn't it; now go watch the video.