I heard you.  You want to know if Twit­ter is that impor­tant for you to restruc­ture your mar­ket­ing around?  Well, if Clive Thompson's arti­cle in The Times Mag­a­zine is any­thing to go by, then my answer is…yes.  It is.
If Clive's arti­cle proves any­thing at least from a marketer's stand­point, it is that we humans are still very much socially curi­ous beings.
Microblog­ging tools like Twit­ter thrive on this nat­ural impulse of ours.  Inquis­i­tive­ness as a nat­ural impulse is what we humans use to jus­tify our unnat­ural obses­sion for celebri­ties.  Perez Hilton got to where he is today by cre­at­ing his own locus clas­si­cus of celebrity gos­sip to sat­isfy a micro­cosm of this need of ours.  Some­body had to right?
For many of us, this is our first intro­duc­tion to terms like "ambi­ent aware­ness" and "ambi­ent inti­macy" — terms that social sci­en­tists are freely bandy­ing around to make sense of this phe­nom­e­non called — lifestream­ing.
How­ever, "ambi­ent aware­ness" and "ambi­ent inti­macy" are admit­tedly, the lovechild of curios­ity.  Clive Thomp­son writes:
In an age of aware­ness, per­haps the per­son you see most clearly is your­self. 1
Prob­a­bly so, and in the process of dis­cov­er­ing more about our­selves, it begs the ques­tion, "What does this have to do with my mar­ket­ing?"  Sim­ple. 
Trans­parency.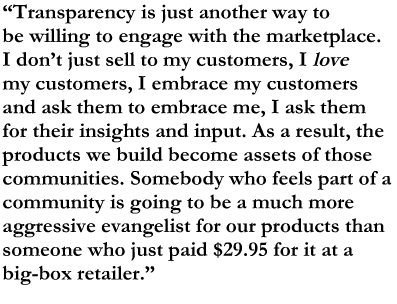 Your mar­ket­ing shouldn't try to paint a canted pic­ture of your busi­ness in a way that it's not.  You've heard that curios­ity killed the kitty.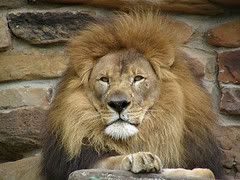 Ok, maybe not that kitty, but my point is that in this case, ambi­ent inti­macy will expose any mar­ket­ing inau­then­tic­ity cow­er­ing within your cam­paigns.  Edi­tor in Chief and pub­lisher of Tech­nol­ogy Review, Jason Pon­tin writes:
In Sin­cer­ity and Authen­tic­ity, a lovely col­lec­tion of lec­tures deliv­ered at Har­vard by Lionel Trilling in the spring of 1970, the lit­er­ary critic made a pro­found case for the impor­tance of authen­tic­ity, and for its new­ness and fragility in our cul­ture: "If sin­cer­ity is the avoid­ance of being false to any man through being true to one's own self, we can see that this state of per­sonal exis­tence is not to be attained with­out the most ardu­ous effort." What, Trilling asks, is the enemy of authen­tic­ity? "No one has much dif­fi­culty with the answer to this ques­tion. From Rousseau we learned that what destroys our authen­tic­ity is society–our sen­ti­ment of being depends upon the opin­ion of other peo­ple."2
Rousseau had his opin­ions, but so does Chris Anderson:
When you rec­og­nize that with trans­parency comes air­ing some of your dirty laun­dry and with that dirty laun­dry comes people's per­cep­tion that you're being open and hon­est, then you have to be com­fort­able in say­ing things in pub­lic that may be mis­in­ter­preted or mis­un­der­stood or used by your ene­mies.  And that's a scary process but that's how you get to authenticity.
And that's exactly what busi­ness mav­er­icks who under­stand this par­a­digm of authen­tic­ity are doing on Twit­ter.  Since writ­ing about Zappos.com CEO Tony Hsieh and his pro­lific use of Twit­ter to engage with his cus­tomers, Busi­ness­Week then released a report on How Com­pa­nies Use Twit­ter to Bol­ster Their Brands:
A grow­ing num­ber of com­pa­nies are keep­ing track of what's said about their brands on Twit­ter. Com­cast (CMCSA), Dell (DELL), Gen­eral Motors (GM), H&R Block (HRB), Kodak (EK), and Whole Foods Mar­ket (WFMI) are among a hand­ful of com­pa­nies haunt­ing Twit­ter to do every­thing from bur­nish brands to pro­vide cus­tomer ser­vice. The atten­tion to Twit­ter reflects the power of new social media tools in let­ting con­sumers shape pub­lic dis­cus­sion over brands.
Back in 2006, Char­lene Li, had this to say to marketers:
All too often, I talk with mar­keters who see blogs as yet another chan­nel through which they can foist their exist­ing mar­ket­ing mes­sages. So Gen Yer mar­keters, I encour­age you to tap into the power of blogs but beware as this group can sniff insin­cer­ity out in a nanosecond.
The seis­mic shift from blog­ging to microblog­ging is quite the leap, but her advice still applies regard­less.  Your mar­ket­ing needs to be trans­par­ent in today's con­vivial atmos­phere of ambi­ent aware­ness.  Any­thing less than trans­par­ent and trigger-happy tweet­ers will chew you up and spit you out before you can say, "But, I really do care about your…".  This is the real­ity of today's B2C envi­ron­ment.  And don't count on The Fed to bail you out on this one.
Ser­ial Entre­pre­neurs Are Dan­ger­ous.  Learn From Them
One ser­ial entre­pre­neur that has caught my atten­tion and who I per­son­ally believe is press­ing all the right social mar­ket­ing but­tons is Guy Kawasaki.  I mean, the man is a mar­ket­ing leg­end in his own right.  He lit­er­ally invented tech evan­ge­lism even before evan­ge­lism had any inkling that it could be asso­ci­ated with tech.
Guy has one of the most read blogs in the busi­ness cir­cle.  But, with Twit­ter in hand, Guy's mar­ket­ing prowess is show­cased in full dis­play for all to wit­ness.  His Twit­ter fol­low­ing at the time of this post­ing is 23,114.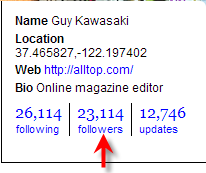 This is the thing, though.  It's not his huge fan­base I'm try­ing to impress upon you.  Quite the oppo­site, actu­ally.  It's the num­ber of peo­ple Guy him­self is fol­low­ing.  Cur­rently stand­ing at 26,114 peo­ple on Twitter.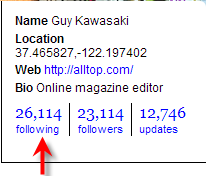 What does this prove?  That Guy has not only read The Clue­train Man­i­festo, he lives it.  Guy's acknowl­edg­ment that mar­kets are con­ver­sa­tions grants him the priv­i­lege of tun­ing into both the Twit­ter­sphere and the blo­gos­phere to cover all the bases for online cus­tomer engage­ment.  Lit­tle won­der than that his lat­est ven­ture All­top is on fire.
I've watched Guy work his magic on Twit­ter.  Not only is he pro­lific in inter­act­ing with the Twit­ter com­mu­nity, he has no qualms about field­ing ques­tions to the com­mu­nity he needs answers to, freely shar­ing his life's jour­ney in text and visual for­mats.  Inad­ver­tently, those who fol­low him can't help but feel like they've known Guy all their lives.  His mar­ket­ing is trans­par­ent, if, you could even call what Guy does mar­ket­ing.  Cus­tomers don't see Guy as a mar­keter any­more.  He has become a friend.  A friend the Twit­ter com­mu­nity can freely trust.
Guy's swami-like sta­tus is well-deserved, but I'm going to let you in on a secret — Guy's mys­tic hold over his fol­low­ers wasn't sent from above.  His power of influ­ence comes from just being him­self — authen­tic, hon­est, hum­ble and gen­uinely inter­ested in every per­son he deals with.  It's the blue-collar raff­ish approach that trumps snob­bish, high-pedestal mar­ket­ing everytime.
Tell me seri­ously, where else have you wit­nessed the rela­tion­ship dynam­ics of cus­tomer and busi­ness meta­mor­phi­cally trans­form into some­thing so remark­ably intimate?
I still remem­ber dur­ing the heady days of Web 2.0, when phrases like user-generated con­tent sent busi­nesses scram­bling to rewrite their mar­ket­ing plans.  Appar­ently Pete Black­shaw got it right.  User-centrism is still very much the pivot around which all ele­ments of mar­ket­ing spin around.  Or, at least it should.  Which is why social media tools like Twit­ter are ren­dered worth­less to busi­nesses if the con­sumer fails to become the focal point of the conversation.
If you had to twist my arm to reveal another entre­pre­neur for you to study, I would have no hes­i­ta­tion in squeal­ing, Gary Vayn­er­chuk.  Gary has nailed what it takes to mar­ket in the 21st cen­tury and has undoubt­edly become one of the most sought after speak­ers on mar­ket­ing with social media.  Two things that imme­di­ately strike you when you watch Gary work.  His pas­sion for what he does, and the trans­parency of how he does what he does.
BusinessWeek's com­pi­la­tion of a list of CEOs cur­rently using Twit­ter to mar­ket their busi­nesses should also prove useful.
So, You Want To Be A Mar­ket­ing Dem­a­gogue, Eh?
"Well, now you can with the all-you-can-use Twit­ter appli­ca­tion for the one­time cost of…FREE!"
You could prob­a­bly just ignore that.  It was my fee­ble attempt at imper­son­at­ing an infomer­cial voiceover (a life­long dream of mine), though you ought to know that Twit­ter is free to use, but costly to your  busi­ness if ignored like Bouil­l­abaisse at Oktoberfest.
PC World did a fine job of demon­strat­ing how Microblog­ging Goes To Work, but it could be sur­mised by Amy Wor­ley of H&R Block, who poignantly revealed:
I went in think­ing Twit­ter was a free way to push our mes­sage out.  Big mis­take.  We learned to lis­ten.  We started win­ning once we let peo­ple decide on their own about our ser­vices.3
Mitch Joel calls this Sell­ing 2.0 and Twit­ter lends to this con­ver­sa­tional inti­macy because with a limit of only 140 char­ac­ters, one can't help but become engaged in small talk.  And if there is one thing that small talk can always be depended on to lead to is — the for­ma­tion of rela­tion­ships.  Apply some Guy Kawasaki pixie dust and you might just turn these rela­tion­ships into excep­tion­ally valu­able ones.
Jim Kukral how­ever, isn't sat­is­fied with just mak­ing small talk on Twit­ter.  He wants a call-to-action every time he posts some­thing on Twit­ter.  If you've been using Twit­ter for any length of time, you'd prob­a­bly come to real­ize that you don't always get a response when you tweet some­thing. What if you could change this with a sim­ple mar­ket­ing twist?  Well, Jim Kukral is doing just that with Twit­ter­me­this — a mar­ket­ing exper­i­ment that pays the first per­son to respond to a ques­tion Kukral were to ask.
Pay­ing for a call-to-action isn't some­thing new and by apply­ing this con­cept to Twit­ter, Jim Kukral is prob­a­bly on to some­thing.  You could add your own twists to his idea and spruce up your Twit­ter mar­ket­ing with approaches unique only to your business.
How, you ask?
I'll let Steve Mul­der tell you that.  Steve has prob­a­bly writ­ten the best 5 tips on restruc­tur­ing your mar­ket­ing around Twit­ter that I'm aware of.  I will list the 5 here, but I urge you to read his arti­cle for all the intri­cate details.  You'd be hard-pressed to go wrong if you were to only stick to these 5 tips:
Lis­ten and learn
Pub­lish valu­able news and information
Dis­trib­ute promotions
Cre­ate or extend your brand personality
Engage in con­ver­sa­tions and cus­tomer service
Let me draw your atten­tion to tip No. 1 — lis­ten and learn.
It is hard to lis­ten if you aren't sure where the con­ver­sa­tion is tak­ing place, right?  This is why com­pa­nies like Radian6 and Buz­z­logic spe­cial­ize in mon­i­tor­ing con­ver­sa­tions sur­round­ing your busi­ness.  Dell hires such com­pa­nies to be its ears on the ground.  It's how Dell man­ages to keep track of every­one who's talk­ing about them, regard­less of the plat­form being used.
Now, I under­stand that you might not own pants with deep pock­ets like Dell, but that's no excuse for not launch­ing your own lis­ten­ing cam­paign.  If you'd read Steve's arti­cle, you'd have noticed he men­tioned http://search.twitter.com/.  But, I fig­ured you should also know about Tweet Scan.  And just so you'll never have to miss a sin­gle con­ver­sa­tion tak­ing place around your sub­ject of inter­est, I urge you to signup with Tweet­Beep.  It will sim­ply make your lis­ten­ing cam­paigns a breeze to man­age.  What's more, these tools are free to boot.
Every Busi­ness Is In The Busi­ness of Mar­ket­ing, But…
…a smarter busi­ness will play their mar­ket­ing to the tune of open­ness.  It is a con­nected world that we live in today.  And as Peter Fisk says, "con­nec­tions lie at the heart of mar­ket­ing."  If we are to engage cus­tomers in a con­nected world, we have to meet our cus­tomers on their terms.  Social media allows us to do just that.
How­ever, don't take my word for it.  Sarah Perez brings to light some rather, shock­ing evi­dence — 85% of Amer­i­cans using social media think com­pa­nies should have an active pres­ence in the social media envi­ron­ment.  I per­son­ally wouldn't argue with a fig­ure like that.  Give the peo­ple what they want, even if they don't know what's good for them.  How­ever in this case, I think they do.

Social media is reach­ing crit­i­cal mass at an even faster rate.  So why then, won't more com­pa­nies adopt social mar­ket­ing and tap into the col­lec­tive con­scious­ness of social media users every­where?  If I'm being hon­est, I don't know.
But, here's what I do know — that if you har­ness tech­nol­ogy bet­ter than your com­peti­tors, then you have in your pos­ses­sion a very pow­er­ful com­pet­i­tive dif­fer­en­tia­tor.  And what do you know, restruc­tur­ing your mar­ket­ing around Twit­ter is a com­pet­i­tive differentiator.
This com­pet­i­tive dif­fer­en­ti­a­tion will sep­a­rate the real play­ers from the wannabees and with so much uncer­tainty tran­spir­ing in today's global econ­omy, I want you to have a head-start on your com­pe­ti­tion.  So, this is what I want you to do.  Take a look at your business's sales process.  No mat­ter the size of your busi­ness, we can sim­plify the sales process to just four stages:
Iden­tify prospects
Iden­tify poten­tial customer's problem
Cre­ate the solution
Close the deal
It's that sim­ple.  When you throw social media into the mix, all you're doing is spin­ning the tur­bines of this process a lit­tle faster, simul­ta­ne­ously dri­ving your business's value engines.  But, the beauty about this is that your sales process  (the 4 stages above) always remains the same.  It's what you throw into the mix that deter­mines how effi­cient your sales process will be.  Under­stand this and you'll already be way ahead of those who haven't fig­ured out what their sales process is to begin with.
Now tie in some of the fol­low­ing con­cetto to your sales process:
If you man­age a large com­pany, con­sider train­ing your employ­ees to use Twit­ter for cus­tomer engage­ment.  You could even encour­age microblog­ging for "inter­nal use only".  Tools like Yam­mer and Present.ly were cre­ated for this pur­pose and are poten­tial ground­break­ers for employ­ees new to microblogging.
Pro­mote your Twit­ter pro­file by dis­play­ing it on your blog, email, forum sigs, and social net­works that you're involved in, like LinkedIn for instance.
Par­tic­i­pate in your cus­tomers' con­ver­sa­tions.  But here's a caveat.  Par­tic­i­pate in con­ver­sa­tions that have a valu­able impact on your busi­ness.  Oth­er­wise, the noise can be over­whelm­ing.  By all means, lis­ten to every­thing your cus­tomers have to say.  But par­tic­i­pate in those that can lead to gain, what­ever that gain might be.  Peter Kim rec­om­mends some tools to help with fil­ter­ing the noise from all that tweeting.
Cap­i­tal­ize on appli­ca­tions that make your use of Twit­ter much more effi­cient.  Appli­ca­tions like Twit­ter­tise, Twit­tad, Tweet Later and Tweet Pro afford you cer­tain advan­tages which Twit­ter on its own doesn't pro­vide.  You can sched­ule your tweets to be sent on a cer­tain date, adver­tise on Twit­ter and brand your com­mu­ni­ca­tion with these appli­ca­tions.  If val­i­dat­ing time and effort is of utmost impor­tance to your busi­ness, then appli­ca­tions like these are like manna from above.
And by all means, share your Twit­ter pro­files below.  You know we can never con­nect enough.  I'll get the ball rolling by giv­ing you mine: http://twitter.com/kevinsingarayar
P.S. Watch the video above for more Twit­ter tips.
Update: Brian Solis has just pub­lished his lat­est blog post, Twit­ter Tools for Com­mu­nity and Com­mu­ni­ca­tions Pro­fes­sion­als.  It's a must read.  The best com­pi­la­tion of Twit­ter tools with com­men­tary I've seen to date.
Footnotes: